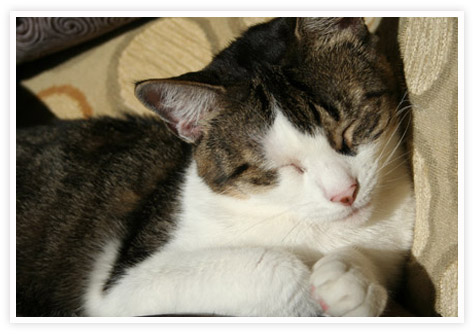 Foster program overview
Goal:
Provide temporary homes for animals awaiting adoption.
Objectives:
To ensure all puppies and kittens have reached the proper level of maturity and have received socialization opportunities, before being placed up for adoption, by fostering underage, underdeveloped, and under socialized animals.
To increase the adoptability of animals with no history by determining the animal's behavioral traits through observation and training in a home environment.
To increase the likelihood of a good match with the animal and a permanent, loving home by knowing more about the animal's personality, characteristics, and behavior.
What is Fostering?
Fostering is accepting an animal into your home for a temporary amount of time until they can be placed into an appropriate, permanent home. Fostering is necessary for under socialized, un-weaned, un-sterilized, sick, injured, or displaced animals. Fostering is also a critical step for some animals that need to be re-homed, but who are weaned and healthy. It provides a home environment with one-on-one specialized attention that is needed by the animals in order to heal, grow-up, learn to love people, and flourish. Fostered animals tend to be adopted quickly and good family matches tend to be easier to make. Not only are the animals more highly social, there is more information known about them. The more interactions, the more you'll understand and know this animal, the more information we'll be able to provide potential adopters, elevating the opportunity for a good match, which will result in a permanent, loving home. Fostering is time-intensive and requires financial expenditures, but it is extremely rewarding. This is not a venture to enter into lightly.
Why become a foster home?
Many fosters are animal lovers who are stepping forward to "do the right thing" by homeless or unwanted animals in their neighborhood. Sometimes these animals come right to your door...somehow "knowing" there's a heart that will reach out to them. Often, people who choose to foster do so because they know these animals face a death sentence at shelters practicing euthanasia.
Many families foster as a way to teach their children about compassion and responsibility in a creative and collaborative way. We have had parent-child partnerships take on nursing bottle babies or moms with litters, as a tag-team effort with joyous results. Parents who home school have also found that fostering is a great teaching endeavor for their family. In addition, we have many young students who foster as a way to earn community service credit for school, as well as to earn scouting badges or as extra-credit projects. TLCS provides training, guidance, and medical care, as well as on-going support throughout the fostering period.
Finally, many people foster because they are interested in adopting a new animal and want to learn more about the animal. There's no better way to find the right addition to your home than by taking in kittens, puppies, or even adult animals and getting to know them first. With kittens and puppies, you can "raise" your new baby and have the pick of the litter, while knowing you've done a great thing for the other kittens and puppies. With adult animals, while saving their lives, you can give a trial run to see if the animal is a good match for you and/or your other pets.
Foster caregiver duties and responsibilities:
The foster caregiver offers the day-to-day help to an animal who needs some increased level of supportive care in preparation for finding a new home. BBTLCS strives to provide foster caregivers as much support and help in terms of supplies and services as each animal will need while being fostered, but not all expenses can be covered. Foster parents may be asked to safely transport the animals in their vehicles to adoption sites or to a vet's office. You will also be encouraged to advocate your own fostered animals as you will have the best knowledge of their habits and actions. ALL ADOPTIONS MUST FOLLOW THE APPROVED TLCS PROCESS. You will be required to follow-up on an adoption of your fostered animal, ensuring the animal has settled into their new home and assisting the adopter with any questions or concerns.
Foster parents need to be prepared to:
Learn as much as you can about pet care
Be prepared to make a financial commitment and be aware this may include repair of any possible damage to your home (screen doors, stains on carpet)
Understand that some foster animals will not survive
Administer medications (if needed) as prescribed
Provide fresh food and water daily
Provide a warm, comfortable environment separate from your own animals
Clean the animal's bedding and area daily (more often if needed)
Clean the litter box at least once daily
Spend quality time playing with and socializing the animal
Begin training (as needed)